Mealtimes often become a battle of wits for parents trying to ensure that their kids get the right nutrition. In a study conducted across six metros in India to understand eating in children, 88% of mothers agreed their kids are fussy eaters. And 87% said that junk food has an influence on the eating habits of children.
It may seem like a never-ending battle trying to get your child to eat nutritious foods, but don't stress. You can help make mealtime healthier and happier for the whole family by following the six steps below.
Step 1: Manage Meal and Snack Times
Establishing set meal and snack times can help your child understand hunger and fullness. Decide on a time range for each meal that works with your family's routines, putting two to four hours between each meal or snack. For example, serve breakfast between 6:30 a.m. and 7:30 a.m., a morning snack between 10:00 a.m. and 10:30 a.m., lunch between 12:00 p.m. and 1:00 p.m., an afternoon snack between 3:00 p.m. and 3:30 p.m., and dinner between 6:00 p.m. and 7:00 p.m. Only give your child water in between meals and snacks.
Follow the schedule for two weeks. Then, assess its effectiveness. If the feeding schedule is not working, make adjustments based on your family's needs.
Step 2: Understand Your Child's Hunger Signals
As you set mealtimes, pay attention to your child's signs of being full or hungry. If you're not sure how to tell, notice how your child behaves around mealtimes for a week.
Only feed your child when she shows signs of hunger and end meals when she shows signs of being full. Don't try to force meals. Instead, you may need to adjust mealtimes if your child is consistently hungry before the established time to eat.
Step 3: Choose Healthy Foods
To ensure you have the right foods available at each meal and snack, make a list of things your family eats often and circle the foods that have at least one of the following:
Fruits or vegetables
Fortified cereal or grain (look at the food label for ingredients with higher amounts of iron and B vitamins)
Nuts or seeds
Fresh meat, poultry, fish or pulses (lentils, peas and beans)
Milk-based products
Products that are not highly processed and contain less than five ingredients
Serve two or more of the circled foods at each meal and snack. As your child's feeding skills improve, modify the texture of the foods you serve.
Step 4: Eat Together as a Family
Watching others eat is an important part of learning to eat. So once your child starts eating solid foods, family members should all sit together as often as possible for meals and snacks. Use a high chair if possible and pull it up to the table. If a high chair isn't available, you can put the child in a secured booster seat at the table or sit the child on a parent's lap.
To help ensure happier and healthier family meals, just follow these guidelines: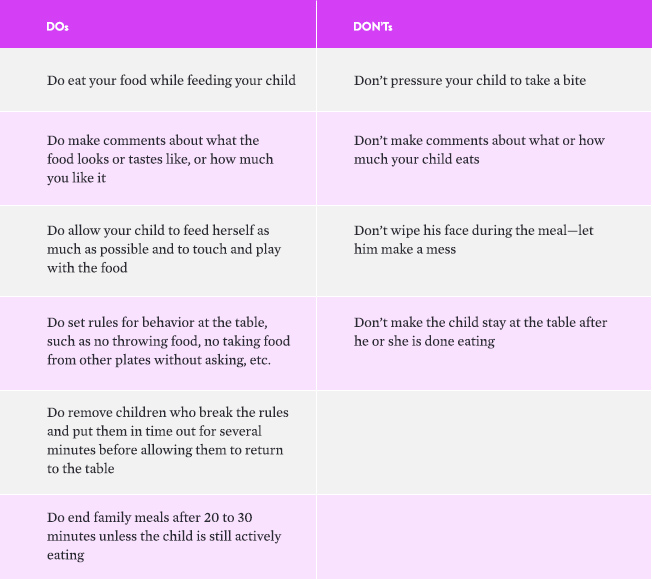 Step 5: Learn What Your Feeding Style Is
If you're worried that your child is eating too much, not enough, too often or the wrong types of foods, understanding your feeding style can help you establish healthier eating habits. To find out your feeding style, download our PDF.
Step 6: Offer New Foods Consistently
To help ensure your child is eating a variety of nutritious foods and expanding his or her palate, try following these tips:
Offer your child a food she doesn't eat or hasn't tried before at least once a day
Put a small amount of the new food on her plate
Make sure there are one or two foods you know she eats on the plate as well
Do not pressure her to take a bite or to try the new food
Talk positively about the new food and other foods on the plate
*Study conducted by Ipsos across 6 metros.